ARRIVING BY PLANE

Václev Havel International Airport (Ruzyně International Airport) is located 20km northwest from the city centre. The airport is served by a number of airlines. To see the overview of destinations and airlines, have a look here.

The transportation from the airport is provided by buses of the city public transport and it takes about 30-40 minutes to reach the city centre. More information on the web of the airport
ARRIVING BY TRAIN

Prague is well connected to European EC train network. All international trains arrive at Praha hlavní nádraží (the central station, abbreviated to Praha hl.n.) which has a connection with metro line C - station "Hlavní nádraží".
Check train timetables and departure and arrival stations at www.idos.cz.


ARRIVING BY BUS
The main terminal for international buses is Florenc Bus Station (metro lines B and C). It is located east of the city centre.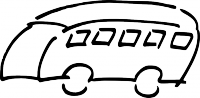 The connection between major European cities and Prague is served mainly by Eurolines and Student Agency.
ARRIVING BY CAR
Prague has highway connections from five major directions; however, uninterrupted highway connection from Prague to the border of the Czech Republic is available only in two directions: southeast and southwest.
In order to drive on a highway, you need to purchase a toll sticker. A 10-day sticker costs 310 CZK and it is possible to buy it at every gas station and also at the border.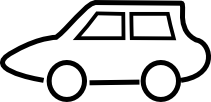 Prague doesn't have a complete highway outer ring. On week days, it suffers from heavy traffic. It is possible to use the P+R (park and ride) parking places, where you can park your car for a very small fee and use public transport.
Parking in most residential streets in and around Prague city centre is possible only with a valid permit. Blue-marked areas are parking-restricted areas for residents.
The southwestern highway (D5; international E50) leads through Plzeň to Germany. The D5 highway continues in Germany as A6. Riding from the state border to Prague takes about an hour and a half (160 km).
The southeastern highway (D1) is the Czech Republic's oldest and most used highway but is in a rather poor condition. It leads through Brno to Bratislava in Slovakia. It offers a good connection to Vienna, Budapest and all traffic from the east. It runs for 250km, and usually takes over two hours.
To the northwest, you can take highway D8 (E55), but it is not completed to the German border. It starts again shortly before the border and continues to the northern Germany via A17 (Dresden, Berlin, Leipzig).
To the northeast, you can take highway R10 (E65) direction Zittau in Germany and Poland.
To the east, you can take the newly completed D11 (E67), which goes to Hradec Kralove. It leads to Poland.
ENTERING THE CZECH REPUBLIC
There is visa-free entry for citizens of most European countries, Australia, Canada and the United States. If necessary, visas are issued by diplomatic missions of the Czech Republic in a given country. The Czech Republic is a member of the Schengen area. Inhabitants of contractual states are allowed to cross borders between states within this area without undergoing border controls. Still, inhabitants of these states have the obligation to carry a passport or identity card with them.
Other useful information for foreigners in Prague are here.